Gay Balenciaga and pub chic from Martine Rose: What's in fashion? – i-D
Readers, there is nothing more chic than the act of giving, as this week's round-up proves. Whether it's Pride capsules from Balenciaga and Levi's (the proceeds of which are to be donated to a range of LGBTQ+ charities), initiatives to end period poverty in India, or Tom Ford's sustainability prize, we're bringing you news of how some of fashion's biggest names are digging deep and donating some coin to help make the world a better place. That's not all though! From pub-inspired capsules to power moves in Milan, here's what's in fashion.
Martine Rose pours out a pub-themed capsule
Over the long winter months of lockdown, there are few things that we Brits craved more than the pub. The sticky wooden countertops, the fruit machines, the beer towels steeps in dregs of ale spilled over the decades…
Naturally, their reopening on April 12 was a moment of national celebration — a boozy British Bastille Day, if you will. Of all the nation's fashion talents, there are few who show their love for pints and their associated paraphernalia quite as proudly as Martine Rose. Looking for proof? Well, this week, the Tottenham-based designer released a whole SS21 capsule collection that riffs on the humble beermat.
Comprising characteristically oversized jersey tops and bottoms, pieces either come in sober (well…) black hand-drawn coaster placement graphics, or an all-over beermat print that gets you giddy at the mere sight! Rather than the typical brewers' logos you're probably familiar with, each graphic bears one of Martine's classic logo hacks, which date back all the way to AW13. Carlsberg couture, anyone? Get your hands on yours before last orders! MS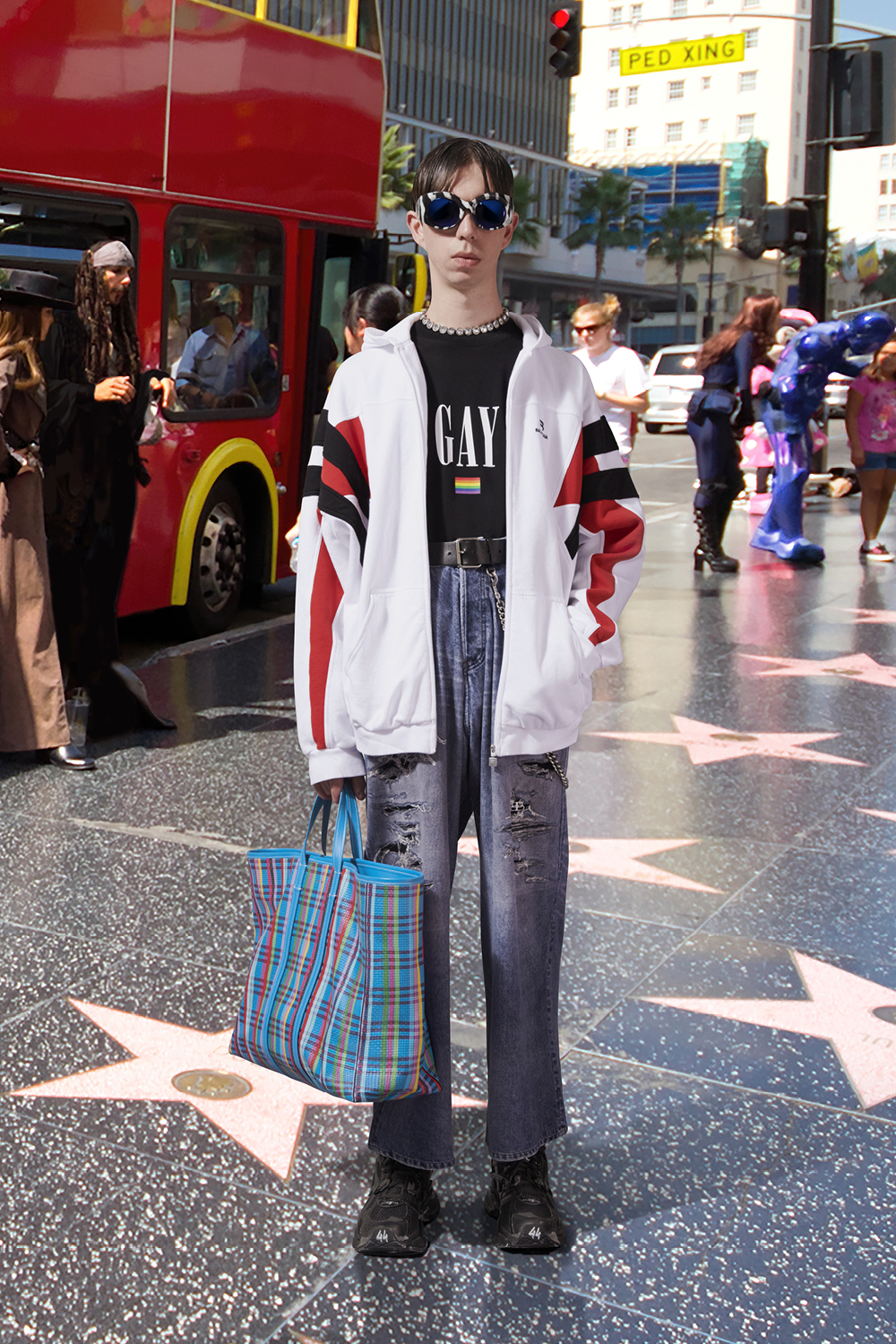 Balenciagay! Demna's 'Pride' collection is here…
Pride month is nearly upon us! While that means we'll be seeing a LOT of rainbow-branded products, we're choosing to spotlight the brands that are doing the work, too.
You may remember the sweats and sportswear from Balenciaga's pre-fall 2021 collection, which spelled out 'GAY Pride' in varsity-style letters, a tongue-in-cheek riff on those Gap hoodies we all regrettably wore back in the day. Well, Balenciaga's creative director Demna Gvasalia has only gone and expanded on them, creating a capsule collection of Pride-themed fashion with 15 per cent of profits going to The Trevor Project, the world's leading suicide prevention and crisis intervention organisation for young LGBTQI+ people. The collection will be available to shop online and at selected stores from the beginning of June. That means you can wear those pink hoodies with more than just one reason to feel proud. OA
… and so is Levi's'!
Did you know that in 1992, Levi's was the first Fortune 500 company to extend health benefits to its LGBTQI+ employees and later worked to overturn Proposition 8, which banned same-sex marriage in California? Turns out our favourite denim brand has long been an ally! Hence, 100 percent of the proceeds from its rainbow-emblazoned Pride collection will go to Outright Action International, an organisation that works to advance the rights of LGBTQI+ people around the world. Bravo! OA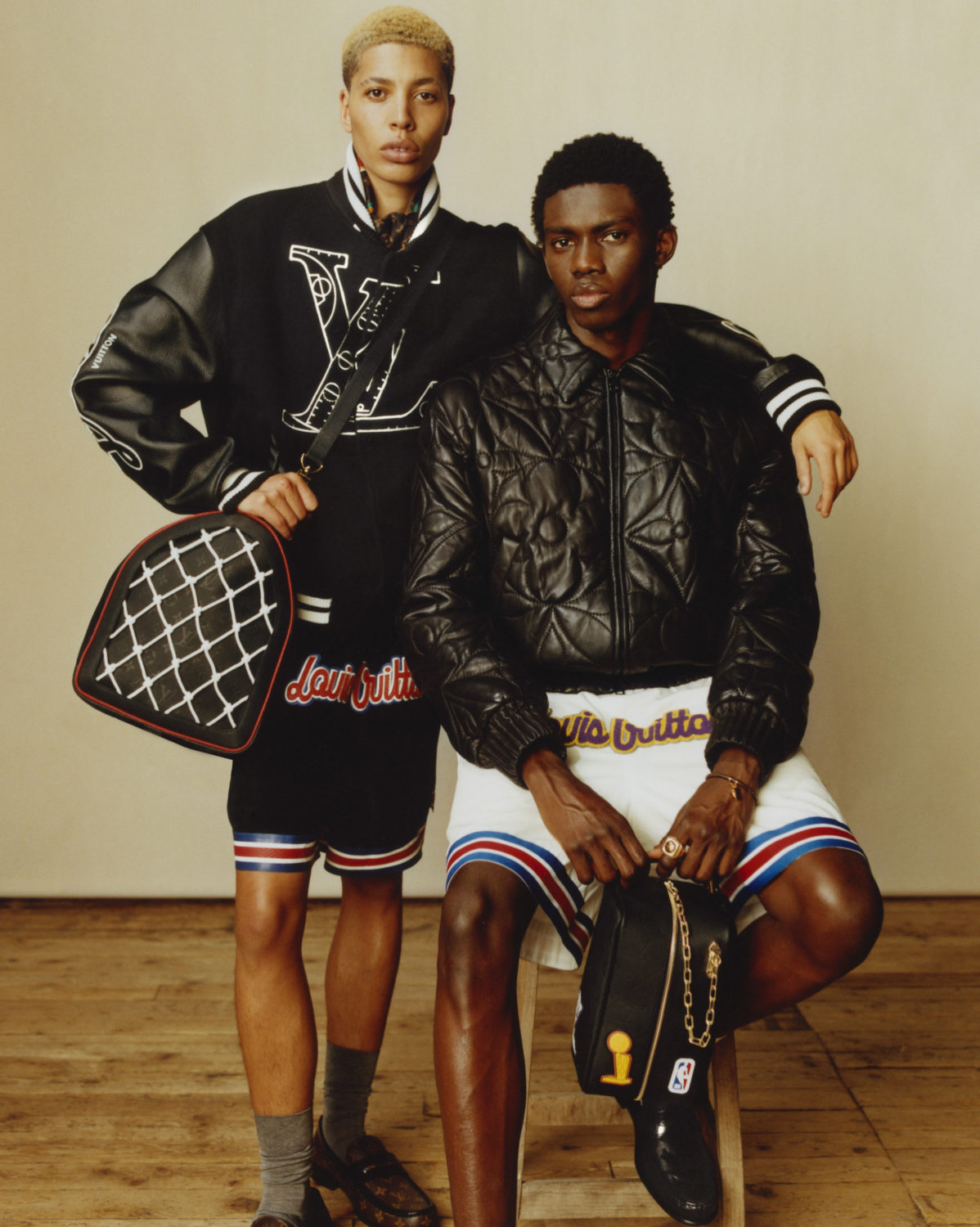 Louis Vuitton shoots a three-pointer with its NBA collaboration
If you didn't already know, sport is fashion's new hot topic. Of course, the two worlds have always enjoyed a pretty sturdy relationship, but in recent years that's been turbocharged. The latest, and perhaps most exciting, proof Louis Vuitton's latest menswear capsule with the National Basketball Association, released as part of the house's Pre-Fall 2021 collection.
Fusing the luxury codes of the Parisian Maison with those of the NBA, the sporty edit boasts blousons quilted with Vuitton's floral insignia, leather-sleeved sweaters, embroidered shorts, and even a keep-all with basketball net details. Captured in a campaign starring Ottawa Kwami and Kai-Isaiah Jamal, if this doesn't have you hot-footing it to your nearest court to shoot some hoops, we don't know what will. A real slam dunk with this one, Virgil! MS
Britain's independent designers get a (New)Gen-erous boost
This week is really about giving back, it seems. Look no further than the British Fashion Council's newly announced recipients of its £1.7 million BFC Foundation, including 34 up-and-coming designers, as well as a number of students in fashion colleges across the country.
The initiative was paused last year for obvious reasons, so its return heralds a much-needed boost for emerging talent in the British fashion industry. Even better, the NewGen recipients are some of our favourite designers: Ahluwalia, Art School, Asai, Bianca Saunders, Conner Ives, Eftychia, Feben, Helen Kirkum, Labrum London, Matty Bovan, Nensi Dojaka, Paolo Carzana, Per Götesson, Richard Quinn, Robyn Lynch, Roker, SS Daley, Saul Nash, Stefan Cooke, Supriya Lele, and Yuhan Wang. Oh, and the principal sponsor of NewGen is now… TikTok! Which means a new fash-filled account for you to follow, too. OA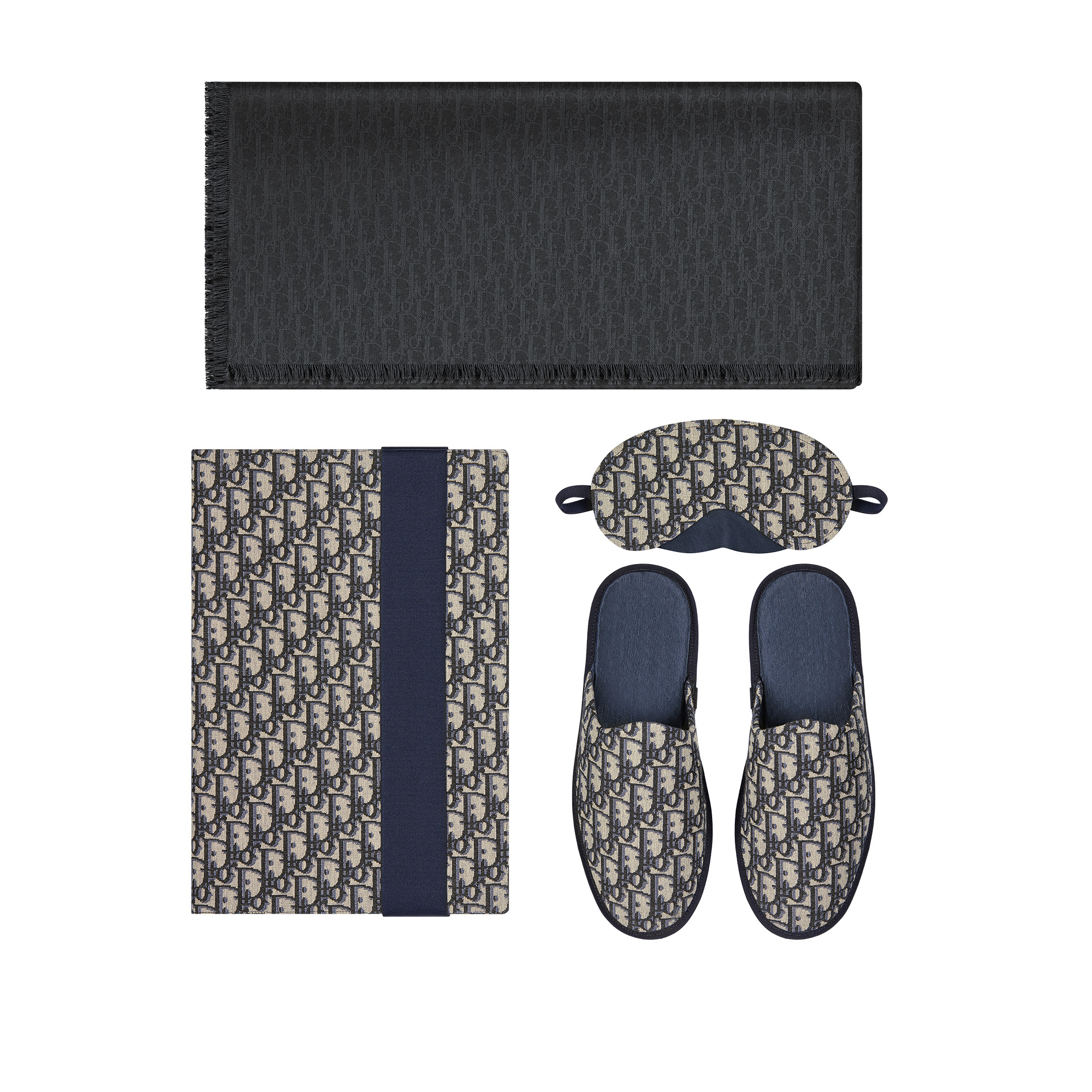 Dior makes a case for cosiness
Look, we know we said that cosy wear was over — that it was time to cast of our slippers in favour of stilettos, and so on — but that was before we saw Kim Jones' first series of interior accessories for Dior.
Comprising silk-lined slippers, an eye mask, and a pochette in the House's iconic Oblique canvas, as well as a cashmere-blend stole, this is an offering that has us wondering what all the fuss about the outside world was in the first place. Like, sure it's dining out is great, but it doesn't quite hit like shuffling to the front door to greet your Deliveroo rider in a pair of Dior slippers, does it? MS
Sex sells, but science and sustainability win Tom Ford's new prize
You get a prize, you get a prize, you get a prize! Fashion is feeling philanthropic this week, and the latest fashion prize comes with a difference. None other than Tom Ford, fashion's King of Sex, has launched his namesake Plastics Innovation Prize: the first competition to be dedicated to encouraging the creative development and adoption of affordable and scalable alternatives to thin-film plastics, which accounts for 46 per cent of ocean pollution (and is expected to triple by 2040), through material innovation. Thinking of applying? Think science, not just style. This is a competition for fabric geeks eager to make a difference in the world, and create solutions to fashion's horrifying impact on the planet.
The cash prize, you ask? A whopping $1.2 million! Yes, you read that right. The two-year prize is followed by a further three years of support for finalists, offering financial aid to help them reach scale and market adoption by 2025. A judging panel including leaders in environmentalism and science will be led by Tom Ford, and applications are open now until 24 October. We caught up with the designer himself to find out more…
As a designer, what is your advice to fellow creators, entrepreneurs and innovators who are thinking about applying to the prize? There is so much creativity, talent and innovation out there in the world and it just takes one amazing idea and the drive to tap into one's potential to make the impossible, possible. I would encourage all inventors who feel passionate about the cause to really believe in their ability to change the world. The environment is in desperate need of a solution for plastic waste so it is up to us to come together to develop an innovative solution to make the environment a safer place for generations to come. How do you think the fashion industry could benefit from a thin film plastic alternative? Just two products alone, single-use resealable sandwich storage bags along with plastic polybags used by the fashion industry — represent over 300 billion thin-film plastic bags disposed of annually. By creating the alternative, we will not only benefit the fashion industry but the whole planet. Thin-film plastic is used in households and industries worldwide, and I would like to make a positive change that expands even beyond my personal and professional worlds. Will you adopt the winning thin-film alternative innovation into your own supply chain and if so, how? Sure, I would hope so! It would be amazing to find an alternative for polybags and every other place where thin filmed plastic is used. What is your role within the prize? For the duration of the five-year prize program, I will be involved throughout as a founder and a judge to help find a solution for thin-film plastic with the goal to make a positive impact on our oceans. As part of the prize, we will be working with scientific researchers over several months to review and refine the final submissions to help find a more sustainable solution to thin-film plastic use. OA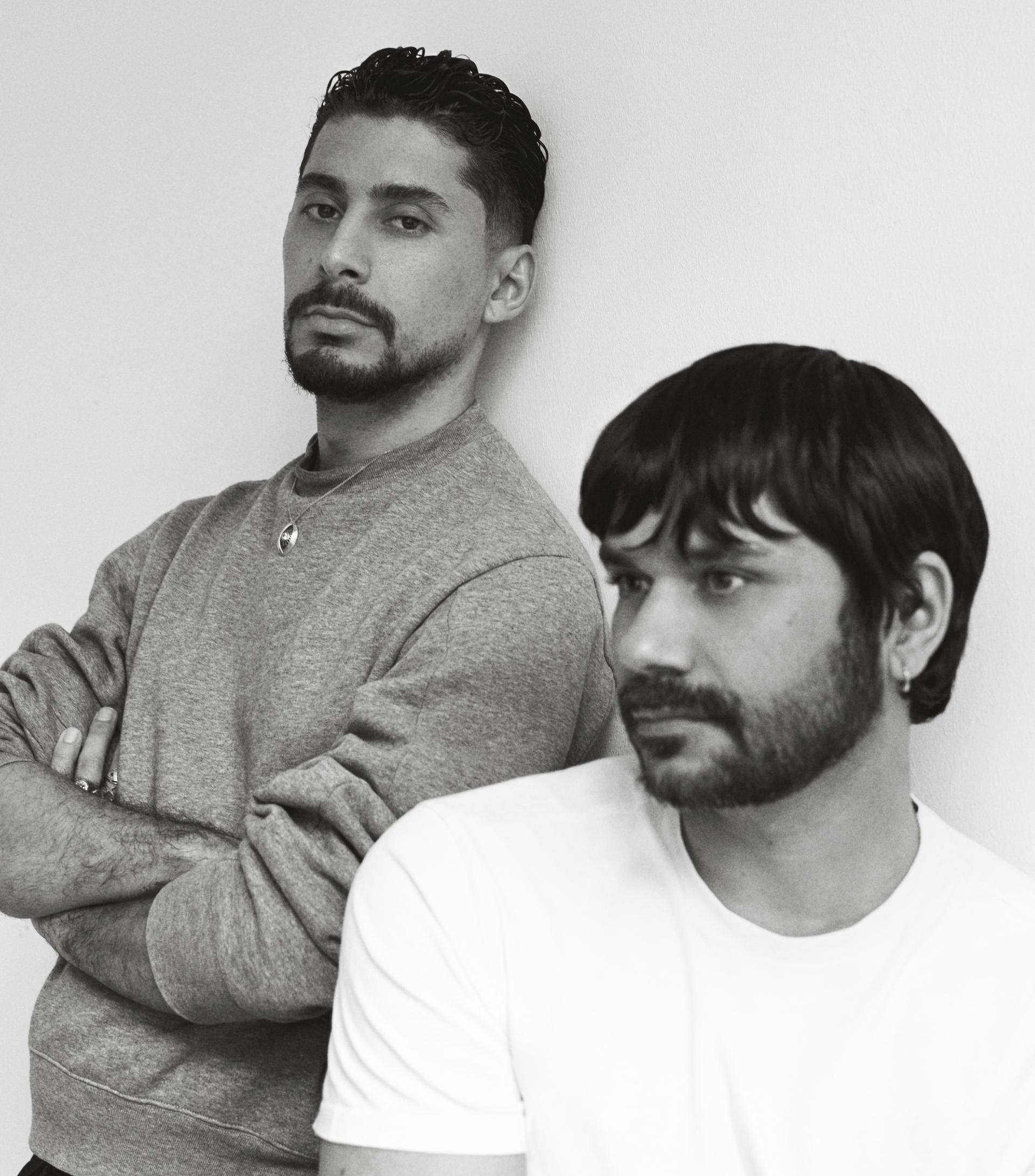 GmbH take over Trussardi
In one of the most exciting new faces announcements that we've heard in some time, Berlin-based duo Serhat Işık and Benjamin Huseby — best known as the minds behind GmbH — have been handed the keys to a heritage house. That's right, this week, it was announced that the pair will be splitting their time between their studio in the German capital and Milan, where they'll be heading up Italian label Trussardi. Best known for its leather goods, the pair will no doubt reinvigorate the Milanese grande dame with their directional perspective, championing virtues on inclusivity, responsibility and nuanced representation as they have done at GmbH.
"Trussardi comes charged with pedigree and enormous untapped potential," Serhat and Benjamin say in a statement, noting that they "were drawn to the possibility of building a house anew." While we won't see the first fruits of their vision until next February, we're pretty damn sure this is one house you'll want to be part of. MS
Pose, pout (and donate) to end period poverty in India
"For millions of children in India, when your period starts, your life stops," says Padmapriya TS, chief executive of Sanitation First, a non-profit that has been installing ecosan toilets and educating teachers and parents in communities across India for more than 20 years. To put it in perspective, every year 10 million children drop out of school early when they start to menstruate. Given that today is Menstrual Hygiene Day, a new campaign has been launched by the charity to encourage people to donate to the important work they are doing — and a roster of fashion brands, from Matches Fashion to Anissa Kermiche to Wool and the Gang, are backing it.
Taking Barbara Kruger's iconic 'Your Body is a Battleground' artwork, an Instagram filter has been designed to spread awareness. Donate through the @sanfirst Instagram — for just £10/$14, Sanitation First can help keep a child in school for a year — then upload your picture with their Barbara Kruger-inspired filter. As if you needed an excuse to take a selfie… OA
---